WHAT WE DO
800LiNK delivers the power and flexibility of an enterprise-level virtual phone system to the home-based and small business entrepreneur.
WHAT OUR CUSTOMERS SAY
"Very affordable and friendly customer service."
- Joseph, St. Charles, IL
"In no time flat, my one woman, one mobile phone home office was transformed into a proper business office."
- Lynn, Ankeny, IA
"Our advertising generates thousands of calls a month. 800LiNK handles them all without a hitch."
- Chris, Issaquah, WA
"It just works."
- Ken, Birmingham, AL
POSTINGS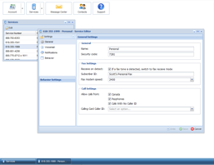 Administration Site Redesign
June 17, 2011
Our administration site has a new design based on the familiar Windows desktop. The new design is more flexible in that mutiple "views" can be active at one time and the division of navigational elements makes getting to those often-used features quicker and easier.
June 15, 2011
You have all heard it - while waiting on hold, a voice interrupts the music you... Read more
June 6, 2011
A new feature had been added to help you keep track of your contacts...Read more